Meeting Point at Suvarnabhumi Bangkok Airport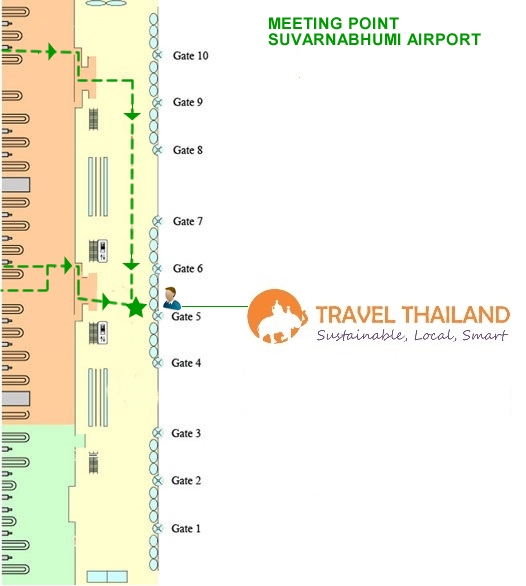 REPRESENTATIVE

:



Our Representative will be waiting for you on arrival at EXIT GATE NUMBER 5 - Arrival hall on the second floor (Meeting Point) near the Information Counter.
Please look for welcome sign of Travel Thailand and your name on it, our transportation team will meet you and transfer you to hotel.
In case you can't find us, please call to +66 8-2324-1463 emergency call.



NOTE:

You should print out this information and keep together with your travel document. Or just simply remember, Arrival hall, Second floor, Exit Gate Number 5 then you will see your name on welcome Sign of Travel Thailand.




Meeting Point at Don Muang Bangkok Airport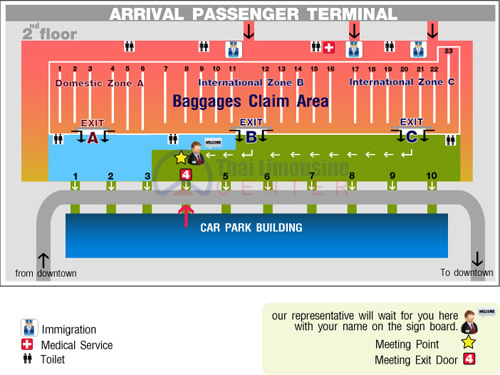 REPRESENTATIVE

:



Our Representative will be waiting for you on arrival at EXIST GATE NUMBER 4 - Arrival hall on the second floor (Meeting Point) near the Information Counter.
Please look for welcome sign of Travel Thailand and your name on it, our transportation team will meet you and transfer you to hotel.
In case you can't find us, please call to +66 8-2324-1463 emergency call.



NOTE:

You should print out this information and keep together with your travel document. Or just simply remember, Arrival hall, Second floor, Exit Gate Number 4 then you will see your name on welcome Sign of Travel Thailand.