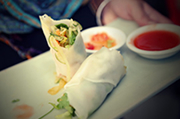 From USD 1,735/pp
This eclectic journey truly offers something for everyone. French influenced Hanoi is a buzzing city with charming pagodas, romantic lakes, and sidewalk food stalls. Trek through peaceful minority hill tribe villages in the northern mountains of Vietnam. Converse with young Hmong girls as you overlook terraced rice fields through the ghost-like fog. Discover new exotic foods in the local market and learn how to use a blend of herbs and spices in delicious Vietnamese dishes.
Exciting Bangkok stimulates the senses. The sights of beautiful Buddha statues, sounds of the every so busy city, and smell of street vendors cooking up the most flavorful foods will captivate every visitor. Savor the taste of seasonal fresh fruit and make your own curry paste in a top notch cooking class in the beautiful tropical beach of Phuket.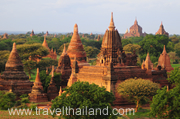 From USD 1,675/pp
Experience the highlights of these two intriguing and very beautiful Buddhist countries. Get a taste of Thailand as you visit the buzz of Bangkok- full of history, beautiful temples, delicious food stalls, tuk tuks and modern shopping malls. Explore the waterway canals, see the impressive emerald Buddha, the Grand Palace, and take in all the highlights of this incredible city before setting off to Yangon.
Formerly known as Burma, Myanmar has only recently opened it's doors to visitors. Here, you'll come face-to-face with the centuries-old rural lifestyle of the Shan people as you visit their floating villages on stunning Inle Lake. Explore Mandalay, a realm of stupas, monks, and monasteries. Chat with these kind-hearted people for a rare insight into the culture of time-locked Myanmar. Marvel at Bagan's thousands of deserted ancient temples, and relax at the stunning hotels and resorts. This journey captures your senses…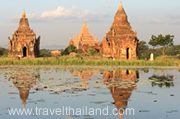 From USD 3,766/pp
A true dream adventure is about to begin. Unveil the mysteries of Southeast Asia as you explore the contrasting cities of buzzing Bangkok and serene Chiang Mai. Here, the rhythmic rock of your elephant companion will put you at ease as you ride through the jungle on this amazing creature. Photograph the amazing view of the fabled Golden Triangle; continue to the Land of a Million Elephants where the ancient city of Luang Prabang beckons. Continue to Halong Bay where your Junk Boat will lull you through the beauty of these natural formations. Welcoming smiles of the Burmese greet you as you unfold the secrets of Myanmar. Walk through the ancient temples and ruins of the Angkor complex and capital city of Cambodia. Sail down the mighty Mekong River to the lively city of Saigon, a city with so much recent history. After you've spent a day back in time reliving days of ancient kingdoms, comfort and style welcomes you for restful nights...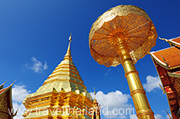 From USD 1,265/pp
Discover the many faces of Thailand and Laos on this adventure, which begins in Bangkok, a bustling capital full of contrast between ancient temples, modern infrastructure, and buzzing Thai life. On the outskirts of Bangkok lies the ancient former capital of Ayutthaya. Visit these ruins and the famous River Kwai before heading north to Chiang Mai, a more relaxed city, known for colourful night markets, teak temples and Thai massages. Your journey continues as your private guide takes you to the fabled Golden Triangle, once known as an opium producing area, to view and scenic panorama of three countries.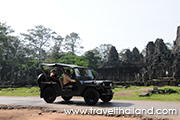 From USD 770/pp
This is an award-winning blend of
Angkor Wat's mystical temples
and the capital city Bangkok. Your journey can be extended with relaxation and pampering on one of South East Asia's unforgettable tropical beaches. This tour makes for the perfect mix of culture, adventure, and rejuvenation, and includes your hotels, internal flights, and more...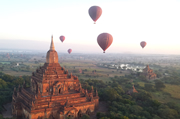 From USD 1,885/pp
Combine the highlights of these two picturesque Buddhist countries. You'll come face-to-face with the centuries-old rural lifestyle of the Shan people as you visit their floating villages on stunning Inle Lake. You'll be invited into the homes of these tranquil, kind-hearted people for a rare insight into the culture of time-locked Myanmar. Formerly known as Burma, Myanmar has only recently opened it's doors to visitors. Enjoying afternoon tea with a Shan family is like stepping back in time to an ancient world. You'll also visit the royal monuments and impressive emerald Buddha in Bangkok, meet the monks of peaceful Chiang Mai, interact with the elephants of the Chiang Dao rain forests, marvel at Bagan's dozens of deserted ancient temples, and relax at the stunning hotels and resorts on the pristine beaches of southern Thailand...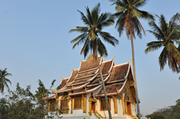 From USD 1,560/pp
The Lanna kingdom was once one of the most powerful and influential kingdoms in history, with a great developed culture that influenced a vast area of northern Thailand and Laos. You can still discover Lanna's influence in the local architecture and customs to this day. Your tour features in-depth cultural touring to the most significant sites of Bangkok and northern Thailand, combined with all the major cities of Laos. Your accommodations are at the finest hotels in each stop of your journey. Your private tour is led by expert local guides who provide exceptional and colorful insight and connection to the local people and their culture...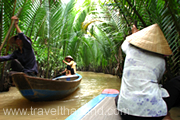 From USD 2,335/pp
A 15 day magical adventure through the
highlights of Vietnam and Thailand
, two countries that are very different and yet so rich in history and culture. Begin in Hanoi, with motorbike filled streets, French influenced boulevards, and romantic lakes. Cruise the mystical Halong Bay and walk the charming street of old Hoian. A town filled with colorful lanterns, quaint shops, and outstanding riverside restaurants. Your taste buds are in for a treat on this journey! Visit historical sites of Ho Chi Minh, explore the serene countryside by cruising narrow canals on the famous Mekong Delta.
Experience the beauty and diversity of Thailand. Bangkok, a modern metropolis and city that never sleeps has wonderful ethnic neighbourhoods that help make this city so intriguing. Night markets, temples, tuk tuks, street stalls, and the warm smiles of Thai people make this country so inviting. The serenity of the north and postcard perfect beaches of the south will leave you well rested.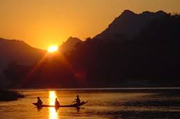 From USD 2,450/pp
Your spectacular and unforgettable southeast Asian adventure traverses four countries and explores the mighty Mekong River in all its glory. You begin with an in-depth tour of Bangkok before flying to the Golden Triangle where Myanmar, Thailand, and Laos meet. You cross into Laos for a slow boat cruise from Houei Xay to Luang Prabang. There you spend the day exploring this elegant ancient city before boarding your flight the following morning to Pakse in southern Laos. Here you're introduced to the 4000 islands with its spectacular scenery and waterfalls. Then you're off to the mysteries of Angkor Wat and Angkor Thom before heading to Phnom Penh. Get ready for adventure as a speed boat takes you down the Mekong River to visit the Delta of south Vietnam. Your amazing journey ends with a fascinating day tour of Saigon...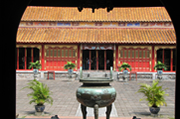 From USD 4,135/pp
This unbelievable three-week journey includes 5 countries that will take you through the very best that Southeast Asia has to offer. Visit the elegant cities of Vietnam, plus many must see highlights. Fly to Siem Reap to discover Cambodia, home of the mystical Angkor Thom and Angkor Wat. Visit he World Heritage Center of Luang Prabang, and beautiful diverse Thailand. The adventure concludes in the once closed, Golden Land of Myanmar, where mysteries begin to unfold.
Find more information in the detailed itinerary or let Travel Thailand consultants assistant in creating your ideal holiday...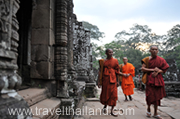 From USD 2,345/pp
Immerse yourself in South East Asia on this private and customizable tour that curates and delivers the best of Vietnam, Cambodia and Thailand. Visit the most exotic and historical places that, perhaps until now, have been on your bucket list. Sapa, a green and remote mountain town, the mighty Mekong Delta, the sprawling complex of Angkor temples, traditional foods, mysterious caves, and floating markets. Our travel consultants strive to bring you the most authentic experience and your private guide makes sure your holiday is stress free.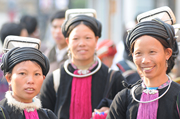 From USD 1,016/pp
Cross ancient empires through lush jungles on a
journey from Bangkok to Hanoi
. You'll bask in the shadows of jungle-clad ruins, barter at floating canal markets, sip coffee in elegant sidewalk cafés and experience the colorful hill tribe markets in terraced hillsides of Sapa. Visit the Unesco World Heritage site of Halong Bay and relax on a Junk Boat as you take it the beauty of the natural surroundings.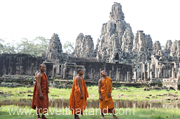 From USD 1,020/pp
Anytime we
travel to Thailand
, it's hard for us to resist the temptation to make a short side trip to Siem Reap, to explore the spectacular ruins of Angkor. This tour is the perfect combination of the highlights of both countries, including the bustling city of Bangkok, the ancient citadel of Ayutthaya, the Royal palace of Cambodia capital city of Phnom Penh and the magnificent ancient ruins of Angkor... All includes in this compact heritage journey.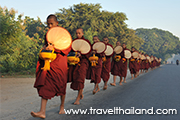 From USD 1,200/pp
This package is designed for those who want to combine the top sites of these 2 countries in a short amount of time. Begin your journey in Yangon by visiting the impressive Shwedagon Pagoda and Kyaukhtatgyi Pagoda. The warmth of the Burmese people will immediately capture your heart as slowly this once closed country becomes revealed. Bagan is an archaeological wonderland, where over 3,000 ancient temples blossom from the countryside. The trip continues to Mandalay where one can learn about the traditions and lives of Buddhist monks. Take a direct flight to the buzzing capital of Bangkok, you will discover a city of contrasts, beginning with an evening tour along the illuminated old town to a delightful riverfront restaurant.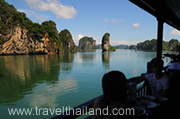 From USD 842/pp
This luxurious, leisurely private tour is the perfect introduction to Thailand and the best of north Vietnam. You'll be the guests of beautiful legendary hotels, tour with your own expert guides and drivers. From Bangkok's Grand Palace to the French inspired capital city of Hanoi, you enter a magical world of sights, scents, and sensations where your spirit soars as the sunset casts its crimson light across the Bay of the Descending Dragon...