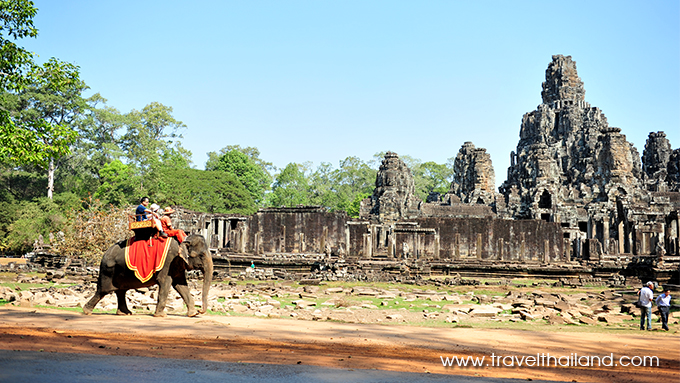 Your spectacular and unforgettable southeast Asian adventure traverses four countries and explores the mighty Mekong River in all its glory. You begin with an in-depth tour of Bangkok before flying to the Golden Triangle where Myanmar, Thailand, and Laos meet. You cross into Laos for a slow boat cruise from Houei Xay to Luang Prabang. There you spend the day exploring this elegant ancient city before boarding your flight the following morning to Pakse in southern Laos. Here you're introduced to the 4000 islands with its spectacular scenery and waterfalls. Then you're off to the mysteries of Angkor Wat and Angkor Thom before heading to Phnom Penh. Get ready for adventure as a speed boat takes you down the Mekong River to visit the Delta of south Vietnam. Your amazing journey ends with a fascinating day tour of Saigon...


Start city: Bangkok

End city: Ho Chi Minh City

Duration: 18 Days 17 Nights

Departure: Daily, upon your request.

Cities to visit: Bangkok - Chiang Rai - Lanjia Lodge - Pakbeng - Luang Prabang - Pakse - Siem Reap - Phnom Penh - Chau Doc - Can Tho - Cai Be - Ho Chi Minh City

- Extendable with optional tours from Bangkok and from Ho Chi Minh City
Tour Brief
Day 1: Bangkok – Arrival
Day 2: Bangkok City Tour
Day 3: Bangkok – Fly to Chiang Rai
Day 4: Chiang Rai – Lanjia Lodge – Hill tribe discovery
Day 5: Lanjia Lodge – Huay Say – Pakbeng
Day 6: Pakbeng – Pak Ou caves – Luang Prabang
Day 7: Luang Prabang city tour
Day 8: Luang Prabang – Flight to Pakse – Champassak – Ban Khone
Day 9: Ban Khone – Phapheng Waterfalls – Pakse
Day 10: Pakse – Fly to Siem Reap
Day 11: Siem Reap – Angkor temples
Day 12: Siem Reap – Tonle Sap lake – Fly to Phnom Penh
Day 13: Phnom Penh city
Day 14: Phnom Penh – speedboat to Chau Doc
Day 15: Chau Doc – Can Tho
Day 16: Can Tho – Vinh Long – Saigon
Day 17: Saigon city tour
Day 18: Saigon Departure.


Prices are quoted in US Dollars per person, double occupancy.
Day 1: Bangkok – Arrival
On arrival, your Travel Thailand driver and guide will welcome you at the airport and take you to the hotel for check in. Free time and relax.
Meals: N/A
Accommodation: Hotel in Bangkok



Day 2: Bangkok City Tour
After breakfast at the hotel, you will start the half day tour in Bangkok. The first visit is The Grand Palace which is the official Palace of The King Of Siam since 1782 made up of numerous buildings, halls, pavilions set around open lawns, gardens and courtyards. It is located on the bank of Chao Phraya River. Inside the Grand Palace complex is Wat Phra Kaeo or Temple of the Emerald Buddha – the most beautiful and sacred Buddhist temple in Thailand. The following visit is Wat Pho – the temple of reclining Buddha. The temple has a long list of credits: The oldest and largest temple in Bangkok, the longest reclining Buddha and the largest collection of Buddha images in Thailand, the first public education institution. Then cross Chao Phraya River by ferry to Thon Buri to visit Wat Arun which is known as Temple of Dawn – one of the best well-known sites in Bangkok. It is best seen from the opposite side of the river. After visiting this Wat, back to your hotel. Free and relax.
Meals: Breakfast
Accommodation: Hotel in Bangkok
Day 3: Bangkok – Fly to Chiang Rai
Fly to Chiang Rai. On arrival, you spend time to visit Wat Rong Khun, also known as the White Temple, with its unique "kanok" architecture. Continue your visits with some of the temples of the town, Wat Phra Kaew with its beautiful brass and copper Buddha image.
The remainder of the day is free at your leisure.
Meals: Breakfast
Accommodation: Hotel in Chiang Rai
Day 4: Chiang Rai – Lanjia Lodge – Hill tribe discovery
Depart for Lanjia Lodge - an eco-friendly community-based lodge nestled high on a hill in Chiang Rai Province, northern Thailand which offers dramatic vistas of the Mekong Valley and Laos. This is the area of the Hmong and the Lahu hill-tribe communities. Your guide will take you on a walking tour through the Hmong and Lahu villages. Among other places, you will visit the home of the Hmong shaman, who will share with you fascinating concepts of the religious life of the Hmong and what role the shaman plays in all aspects of life here. Lunch will be served on the charming terrace overlooking the Mekong River and Laos beyond. In the afternoon, you will learn how to dye cloth using local batik methods or you may be shown how to make and set animal traps. Later at the Herbal Plant Nursery Project supported by the royal family, you will plant a tree along with your own placard. This project was initiated to celebrate His Majesty the King's 84th birthday on 5 December, 2011. In the evening you will enjoy a delicious Thai dinner at the Lanjia Lodge. Villagers, both Hmong and Lahu, will demonstrate local dances and music during the evening. Stay overnight at Lanjia Lodge.
Meals: Breakfast, Lunch, Dinner
Accommodation: Lanjia Lodge
Day 5: Lanjia Lodge – Huay Say – Pakbeng
After breakfast, you will transfer to Chiang Khong immigration checkpoint. Following Thai immigration procedures, you will take a local boat across the Mekong River to Huay Say Luang, Laos where you will first complete Lao immigration procedures, and then board the boat to start your cruise down the Mekong River. Enjoy lunch on board. Along the way to the town of Pakbeng, you will stop at Ban Houy Phalam, a Kamu village, to observe firsthand rural life along the Mekong. You will arrive at Pakbeng around sunset where you stay overnight.
Meals: Breakfast, Lunch
Accommodation: Hotel in Pakbeng
Day 6: Pakbeng – Pak Ou caves – Luang Prabang
After breakfast, you board the boat and continue cruising to Luang Prabang. Today, your first stop is Ban Baw, a small village known for making traditional rice whisky. After lunch, the boat will stop again at Pak Ou to visit 'Tham Ting' cave, where thousands of Buddha statues are found. The boat arrives in Luang Prabang before sunset.
Meals: Breakfast, Lunch
Accommodation: Hotel in Luang Prabang
Day 7: Luang Prabang city tour
This morning you may want to wake up early and participate in the daily early morning ritual of saffron-clad monks with their black Alms-giving bowls being given offerings from the local people, including the ubiquitous sticky rice.
We will visit the former king's palace, which is now a museum. The many items nicely displayed include rare furniture, traditional costumes and arts, jewelry, ornaments as well as working tools and utensils of the early part of the 20th century. Following we embark on a tour of this enthralling town to visit Wats Xieng Thong, the Golden City monastery, which dates back to the 16th century and is considered to be the finest in Laos. Furthermore, we visit the fine temples of Wats Mai, Vixoun, and the national Stupa of That Luang. Later that day, we adjourn to the Phousi Holy Hill to enjoy the marvelous panoramic views of the town at sunset.
Meals: Breakfast
Accommodation: Hotel in Luang Prabang
Day 8: Luang Prabang – Flight to Pakse – Champassak – Ban Khone
After breakfast, we will take the driver to the airport for your flight to Pakse and Champassak. On the way, visit Wat Phou, the most important Hindu sanctuary of the Khmer Empire then continue on to Nagasang, for a boat cruise to the beautiful Island of Ban Khone where you can sometimes see Irrawadee dolphins.
Overnight in Ban Khone.
Meals: Breakfast
Accommodation: Hotel in Ban Khone
Day 9: Ban Khone – Phapheng Waterfalls – Pakse
Enjoy breakfast at the hotel, before cruising by boat to Khone Phapeng Waterfall, which spans 14km in width of the mighty Mekong River. This waterall is listed as the world's widest waterfall. More akin to tumbling rapids than a waterfall from a Western perspective, it is still quite impressive, especially during the rainy season when the water is running fast and furious.
Drive back to Pakse in the late afternoon.
Meals: Breakfast
Accommodation: Hotel in Pakse
Day 10: Pakse – Fly to Siem Reap
You will be free today until transfer to the airport for flight to Siem Reap, the provincial capital and gateway to the ancient Angkor temples. Designated a World Heritage Site by UNESCO, the Angkor Archaeological Park encompasses dozens of temple ruins including Bayon, Banteay Srei and the legendary Angkor Wat. Upon arrival, your guide will welcome you at the airport and take you to the hotel to check in.
Meals: Breakfast
Accommodation: Hotel in Siem Reap
Day 11: Siem Reap – Angkor temples
Enjoy an entire day devoted to the mystical and ancient Angkor Temples. After an early breakfast at the hotel you set out to Angkor Thom's imposing South Gate, topped with the four serenely smiling faces of Avalokiteshvara. Next, visit Bayon temple, the Elephant Terrace and the Terrace of the Leper King. Leaving Angkor Thom by the North Gate, you travel to Preah Khan (Sacred Sword), one of Angkor's largest temples, constructed in the 12th century by Jayavarman VII. After lunch of traditional Khmer food, head to the mystical, jungle-entwined Ta Prohm temple and then on to the most famous Khmer temple: Angkor Wat. Constructed as a Hindu monument, later dedicated to Buddha, Angkor Wat is the largest temple and finest example of Angkorian art and architect.
Meals: Breakfast, Lunch
Accommodations: Hotel in Siem Reap
Day 12: Siem Reap – Tonle Sap lake – Fly to Phnom Penh
After breakfast we are taking a break from temples and going on a traditional wooden boat on the Tonle Sap. This is the largest permanent fresh-water lake in South Asia and flows into Tonle Sap River, joining the Mekong in Phnom Penh. We will see a "floating village" – boats that have been converted to look like houses and the "village" moves from place to place according to the water levels. We continue to one of the city's lively open markets, Psar Chass, called the "Old Market", where you can see the locals shopping and going about their lives! Then transfer out for departure to Phnom Penh by plane, on arrival we meet you again and transfer you to a hotel in the center of Phnom Penh city.
Meals: Breakfast
Accommodations: Hotel in Phnom Penh
Day 13: Phnom Penh city
Begin your morning with breakfast at hotel then set out to see the capital city of Phnom Penh which was once considered the loveliest city of Indochina. Despite its recent turbulent history, it still maintains considerably charming. A city tour acquaints us with some major sights of Phnom Penh. The Tuol Sleng Prison Museum and the notorious 'Killing Fields' of Choeung Ek are not to be missed. A visit to these sights provides a deep insight into the painful bloody rule of the Khmer Rouge. In the afternoon, we will enjoy the cyclo ride to visit Royal Palace, which is now home to the royal family. In the northern section of the palace grounds lies the Silver Pagoda, the most sacred one in the country and The National Museum.
Meals: Breakfast
Accommodation: Hotel in Phnom Penh
Day 14: Phnom Penh – speedboat to Chau Doc
Board the speed boat trip along Mekong River to Vietnam. Visa formalities may take up to 45 minutes at the border. Continue by river to Chau Doc, where you will meet up with our guide and you will be taken to the hotel.
Later in the afternoon, time permitting, feel free to take some time and explore the area surrounding the hotel.
Meals: Breakfast
Accommodation: Hotel in Chau Doc
Day 15: Chau Doc – Can Tho
Breakfast at the hotel. There are several places of interest to visit in the area around Chau Doc, including a Cham community and the brooding Sam Mountain with its kitsch pagodas, or boat trip to visit the floating houses.
In the afternoon, you take the drive to Can Tho.
Meals: Breakfast
Accommodation: Hotel in Can Tho
Day 16: Can Tho – Vinh Long – Saigon
Wake early and leave the hotel to visit the famous Cai Rang floating market by motor boat. Continue the boat ride to visit the Mekong Delta's famous orchards and sample the fresh, exotic fruit. Then venture deeper into the country side, passing traditional houses made of wood and palm leaves as you observe the activities of the local people. Continue to proceed to Vinh Long market in the town. This is the best choice for you to take pictures of fish, shrimps, prawns, crabs, snakes, rice-field rats, tropical fruits, vegetables...
The boat will take you to visit the brick kilns where you can see how the local people create beautiful potteries from clay. Then, come to visit the orchard & traditional house. We will enjoy some kinds of fruits and tea when listening to the traditional music
The rowing boat will take you deeper into the countryside on smaller canals and to enjoy the peaceful time. It is so interesting to see traditional houses made of wood and palm tree leaves and see some activities of the local farmers with an opportunity to make contacts with them and see how they catch fish or pick up fruits by ancestral ways in Mekong Delta.One more thing to do in this trip is biking ! It will be so amazing to bike on village paths to see the local farms, houses, « monkey » bridge, real life...
The cruise will back Vinh long city. Head to Saigon for overnight.
Meals: Breakfast, Lunch
Accommodation: Hotel in Saigon.



Day 17: Saigon city tour
Enjoy a full day to tour Saigon's diverse attractions. Start with a visit to Saigon's China Town, then learn about traditional Vietnamese medicine at the FITO Museum and browse through the amazing array of goods at Ben Thanh Market. Stop for lunch then continue on the city tour with a visit to the War Remnants museum and former Presidential Palace. You conclude the day exploring the city's French colonial architecture, stopping at the Notre Dame Cathedral and the Old Post Office.
Meals: Breakfast.
Accommodation: Hotel in Saigon.
Day 18: Saigon Departure.
Free until time transferred to the airport for your departure flight. Have a good journey back home.
Bon Voyage!
Meals: Breakfast
Accommodation: N/A
1. Are tour dates of flexible?
Yes, this tour package is private and you can depart on any dates at your convenience.
2. Can I extend or change my stay?
Absolutely! Extra days can be arranged in most areas if desired. Let us know how you would like to customize your trip and we will do our best to accommodate you. You can ask helps from our travel consultant to amend or extend your stay (subject to availability of hotels and flights; surcharge may be applicable).
3. Are the rates displayed per person or per room?
The prices shown on our website are per person based on twin/ double accommodation.
4. Any surcharges if my travel dates are during Christmas or New Year Holidays?
The rates are regular price and they are not included a compulsory dinner (Gala Dinner) on the day of Christmas or New Year Eve. Surcharges depend on specific hotels you stay at, so our travel consultants will give further information to you in communications.
5. Are there any discounts available?
We offer select trip discounts periodically throughout the year, especially in the low season (Summer time in Vietnam is from May to Sep). Please contact our travel consultants to get more details.
6. How do I pay when I want to book this tour?
We accept payment by debit/ credit card (Visa, Master, Amex), cash and bank transfer. When you confirm a booking with us, we will send you our online payment link or bank details to deposit 30% of the total tour cost. The balance will be due as soon as you arrive in Cambodia. Our travel consultants will give more details via email about payment instruction.
7. Are meals included?
We have tried to balance flexibility and convenience regarding meal options. This tour package includes daily buffet breakfast at hotels and some lunches or dinners as listed in parenthesis next to the tour itinerary on each day tour. In the major cities, where there are a wide variety of restaurants, we generally do not include meals to allow our travelers the flexibility of choosing their own food preferences. Our tour guides can recommend some options for our clients to choose from according to traveler's interest & budget.
8. What type of food is typical of Vietnam?
Vietnamese cuisine is quite varied from the North to the Centre and to the South, having had many external influences over the years that have created an interesting mix of cooking methods and ingredients. French presence in the recent past has led to the assimilation of French cuisine influence, and is often attributed with Pho noodle soup's rise to popularity. Most meals include rice, as well as fish sauce which is a popular condiment added to almost every meal throughout the country.
9. What if I have a special request on food?
You just need to share us your request on type of foods, we will choose a right restaurant and order suitable menus for you.
10. What are the accommodations like?
Vietnam Tours only recommends good hotels rated from 3 stars to luxurious resorts. They are located within walking distance of the town center and the reception generally speaks English. For more information, check with your travel consultants to view pictures of our suggestion on standard hotels/ lodges/ resorts. Don't forget that you can give your favorite name of hotel brands to us, so we can get your concept.
11. What type of transportation is used?
Our Vietnam tours utilize a variety of primarily private transportation (arranged just for your groups) including new and modern vans/ cars, motor boats, etc. We use a mix of private (vans/ cars)/ public transportation (domestic flights, sharing cruises, trains) to provide travelers with the safest and most efficient transit in each area.
12. Is this tour suitable for kids?
Yes! If you have children traveling with, ask your travel consultants to customize the tour program to fit a variety of interests and ages. We also focus on family friendly vacations with less travel and minimum drive times and maximum in-country activity that will keep younger minds engaged.
13. How many people are typically on your tours?
We only offer completely private tours, so only the people you book for will be on the tour. If you are alone, it will just be you and your guide. If you are a couple, just the two of you and your guide, and so on. We believe this is the best type of tour, so that it can be personalized to you, go at your own pace, and so that you can have the full attention of your guide for the duration of the tour.
14. Is this trip a good choice for solo travelers?
Yes, it is. You will still have a private tour guide and driver to accompany throughout the journey. However, you have to cover all expenses regarding accommodations (single room), tour guides, transportations because no-one shares cost with.
15. Do tour rates include international flights?
This tour only includes domestic flights. We find that it is usually less expensive for travelers to book these separately and this also allows you the flexibility to choose the schedule and routing that is most convenient for you. You can purchase international flights on your own, or we can certainly help you arrange these flights with an airfare consolidator who specializes in international flights.
16. How do I get to the hotel from the airport when I arrive?
When you arrive at airports, you will be greeted with your name on our driver/ tour guide's welcome sign, then get transferred to your hotel.
17. How if bad weather such as storm, flood, landslide occurs during my holiday with Vietnam Tours?
Our Travel Consultants and Tour Operators keep checking weather forecast every-day, if the weather is bad and it may affect to your safety, we will discuss with you regarding a tentative program immediately.
18. How much should I budget for tips?
Tips are not compulsory on any of our tours. However, it is customary to offer a small tip for exceptional service. Other travelers opt to bring small souvenirs from their home to give to tour guides and drivers along the way.
19. Is travel insurance included? And is it recommended?
Travel insurance is not included in our tour price. Absolutely, we recommend you to contact with your local agent in your country to buy travel insurance before you go.
20. How to change or cancel my reservation?
- You can change or amend your schedule in advance or during your trip but surcharge maybe applied according to our contract with local suppliers, hotels and airlines. Regarding cancelation terms, please check out this link: https://asiatravelandleisure.com/terms-conditions.html
Want to Ask a question?
4 flights as mentioned in the itinerary.
Accommodation at 3 star hotel in everage.
Private tours, transfers and all services as mentioned in the itinerary.
Services of private drivers and air-conditioned vehicles.
Service of English speaking guides as mentioned in the itinerary.
Entrance fees for all mentioned sights visited.
Meals as mentioned in the itinerary.
International flight into Thailand and out Vietnam.
Meals other than those mentioned in the itinerary.
Early check-in and late check-out at hotels.
Personal expenses (such as laundry, telephone, drinks, etc.).
Tips for guides and drivers.
Personal travel insurance.
Thailand, Laos, Cambodia, Vietnam Visa fees.
Did you know? All of our tours are private and daily depart. Travel Thailand can organize any additional accommodations, domestic and regional flights.
Call us on +84983 787 868 to speak to one of our experts.