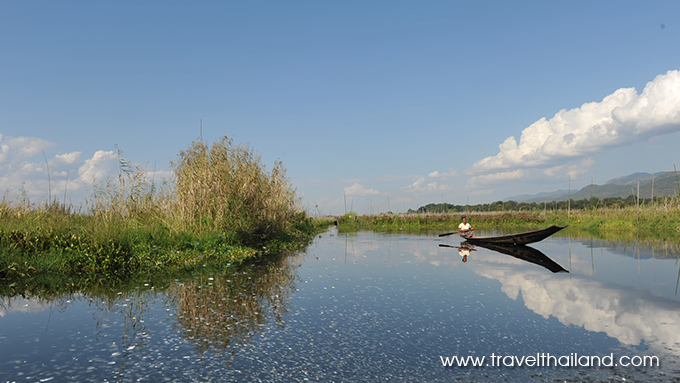 This unbelievable three-week journey includes 5 countries that will take you through the very best that Southeast Asia has to offer. Visit the elegant cities of Vietnam, plus many must see highlights. Fly to Siem Reap to discover Cambodia, home of the mystical Angkor Thom and Angkor Wat. Visit he World Heritage Center of Luang Prabang, and beautiful diverse Thailand. The adventure concludes in the once closed, Golden Land of Myanmar, where mysteries begin to unfold.
Find more information in the detailed itinerary or let Travel Thailand consultants assistant in creating your ideal holiday...


Start city: Hanoi

End city: Yangon

Duration: 22 Days 21 Nights

Departure: Daily, upon your request.

Cities to visit: Hanoi - Halong Bay - Hoian - Ho Chi Minh City - Mekong Delta - Siem Reap - LuangPrabang - Chiang Mai - Bangkok - Yangon - Bagan - Inle Lake - Yangon.

- Extendable with optional tours from Hanoi and from Yangon
Tour Brief
Day 1: Hanoi Arrival
Day 2: Hanoi City Tour – Halong
Day 3: Halong Bay – Hanoi – Fly to Danang – Hoian
Day 4: Hoian Eco tour (S.I.C)
Day 5: Hoian – Walking tour – Fly to Saigon
Day 6: Mekong Delta day trip
Day 7: Saigon City Tour – Fly to Siem Reap
Day 8: Siem Reap – Angkor temples
Day 9: Siem Reap – Tonle Sap Lake – Fly to Luang Prabang
Day 10: Luang Prabang – Pak Ou Caves – Kuangsi Waterfalls
Day 11: Luang Prabang – City tour – Fly to Bangkok
Day 12: Bangkok – Floating market – city tour
Day 13: Bangkok – Fly to Chiang Mai
Day 14: Chiang Mai – Maesa Elephant Camp
Day 15: Chiang Mai – Cooking class – Fly to Yangon (Thursday / Sunday)
Day 16: Yangon city tour
Day 17: Yangon – Fly to Bagan
Day 18: Bagan Sightseeing
Day 19: Bagan – Fly to Heho – Inle Lake
Day 20: Inle Lake – Indein – Inle Lake
Day 21: Inle Lake – Fly to Yangon
Day 22: Yangon Departure
Prices are quoted in US Dollars per person, double occupancy.
Day 1: Hanoi Arrival
Welcome to Hanoi: Vietnam's bustling colonial capital. Your guide and driver will meet you outside the baggage claim of Noi Bai Airport and take you to your hotel in the city center. Relax at your leisure.
Meals: N/A.
Accommodation: Hotel in Hanoi.



Day 2: Hanoi City Tour – Halong
Enjoy a half day to explore Vietnam's charming capital, before driving through the countryside of the Red River Delta to the magical Halong Bay. With its wide tree-lined boulevards, French colonial architecture, peaceful lakes and ancient oriental pagodas, Hanoi is an eclectic mix that offers something for everyone. Your city tour will take you to Hanoi's key sites: the Ho Chi Minh Complex (Ho Chi Minh's Mausoleum – except Monday, Friday & afternoon and stilt house), the nearby One Pillar Pagoda; the Temple of Literature, the Fine Arts Museum. In the afternoon, leave the bustle of the big city and drive to Halong Bay (3 to 4 hour drive).
Meals: Breakfast.
Accommodation: Hotel in Halong.
Day 3: Halong Bay – Hanoi – Fly to Danang – Hoian.
Today you enjoy a day cruise on Halong Bay: a UNESCO World Heritage Site and natural wonderland composed of jutting limestone islands and sparkling turquoise waters, located in the Gulf of Tonkin. After breakfast at the hotel, you are transferred to the Halong harbor to board your private junk cruise for a 4-hour journey. Cruise along the calm waters, between looming, limestone outcrops to visit Dau Go Cave "Grotto of the Wooden Stakes", where, in 1288, one of Vietnam's most famous generals, Tran Hung Dao, stored hundreds of stakes before battling the invading Mongolian army. A short walk away, visit the newly discovered Thien Cung Cave ("Grotto of the Heavenly Palace"), famous for its stalagmites and stalactites. Savor a fresh seafood lunch, served on board before sailing back to Halong City, where your car will be waiting to take you to Hanoi for your flight to Danang. Upon arrival, transfer to your hotel in Hoian.
Meals: Breakfast, Lunch.
Accommodations: Hotel in Hoian.
Day 4: Hoian Eco tour (S.I.C)
Today you embark on a family run "fisherman eco-tour". Explore Hoian's surrounding farmland and countryside then try your hand at local fishing techniques as you learn to navigate a basket boat through narrow waterways.
Meals: Breakfast, Lunch.
Accommodations: Hotel in Hoian.
Day 5: Hoian – Walking tour – Fly to Saigon
Take a morning half-day walking tour through the narrow winding streets of the ancient town centre, visiting Chua Ong Pagoda, the Chinese Assembly Hall, the 200-year old Tan Ky ancestral house and the famous Japanese Bridge. After lunch, take a short boat trip to a nearby island and visit a handicraft village specializing in ceramics.
Afternoon fly to Vietnam's modern metropolis: Saigon. Pick up & transfer to the hotel.
Meals: Breakfast
Accommodations: Hotel in Saigon
Day 6: Mekong Delta day trip
Today you shall travel to the Mekong River Delta on a day trip to explore the rich culture and lush fluvial landscape. After breakfast, your guide & driver will meet you at your hotel and take you to Cai Be. Commence your tour with a visit to Cai Be's floating market, cruising among the local barges stuffed-full of fruits and vegetables. Visit some local workshops, then enjoy a delicious lunch served in the cool shade of An Binh Island's orchards. In the afternoon, take a traditional rowboat and venture deeper into the countryside, floating through narrow canals to enjoy the peaceful surroundings. Stop at a nursery garden to discover how farmers along the delta produce their world famous fruits and vegetables. The cruise ends around 3:30 PM in Vinh Long. Your driver will meet you at the dock and take you back to Saigon.
Meals: Breakfast, Lunch
Accommodations: Hotel in Saigon
Day 7: Saigon City Tour – Fly to Siem Reap
After breakfast, you will take morning orientation tour through Ho Chi Minh City's bustling streets en route to the hotel. Visit the War Remnants Museum, learn about Vietnam's recent history at Reunification Palace, visit the nearby neo-Romanesque Notre Dame Cathedral and the City's Centre Post Office before passing by the ornate Opera Theatre and the City Hall.
In the Afternoon, fly to Siem Reap, the primary access point for the Angkor Archaeological Park. On arrival, you will be met by tour guide & driver, and transfer to the hotel.
Meals: Breakfast
Accommodations: Hotel in Siem Reap
Day 8: Siem Reap – Angkor temples
Enjoy an entire day devoted to the mystical and ancient Angkor Temples. After an early breakfast at the hotel, you set out to Angkor Thom's imposing South Gate, topped with the four serenely smiling faces of Avalokiteshvara. Next, visit Bayon temple, the Elephant Terrace and the Terrace of the Leper King. Leaving Angkor Thom by the North Gate, you travel to Preah Khan (Sacred Sword), one of Angkor's largest temples, constructed in the 12th century by Jayavarman VII. After lunch of traditional Khmer food, head to the mystical, jungle-entwined Ta Prohm temple and then on to the most famous Khmer temple: Angkor Wat. Constructed as a Hindu monument, later dedicated to Buddha, Angkor Wat is the largest temple and finest example of Angkorian art and architect.
Meals: Breakfast, Lunch
Accommodations: Hotel in Siem Reap
Day 9: Siem Reap – Tonle Sap Lake – Fly to Luang Prabang
Immerse yourself in the rich culture surrounding Siem Reap on a boat tour along Tonle Sap Lake. After breakfast at the hotel, take a short walk through a tranquil Siem Reap neighborhood to learn about the local way of life before driving to Tonle Sap Lake to board a local boat for a cruise through the floating villages. Return to Siem Reap for lunch then drive to the airport to catch your flight to Luang Prabang. Your driver and guide will meet you at the airport there and take you to your hotel.
Meals: Breakfast
Accommodations: Hotel in Luang Prabang
Day 10: Luang Prabang – Pak Ou Caves – Kuangsi Waterfalls
After breakfast at the hotel, we embark on a cruise upstream on the Mekong River, which also gives us a breathtaking view of the tranquil countryside as well as explore the mysterious Pak Ou Caves, two linked caves crammed with thousands of gold lacquered Buddha statues of various shapes and sizes left by pilgrims. Along the way, we stop at the village of Ban Xanghai, where the local make the rice wine. This afternoon, we drive to the beautiful Kuangsi Waterfall where you can cool off with a refreshing swim in the turqoise pools or walk along the forest trails. After returning to Luang Prabang by late afternoon, we continue to Ban Xangkhong, a village that is well known for its silk weavings and for its Saa (jute) Papermaking.
Meals: Breakfast, Lunch
Accommodations: Hotel in Luang Prabang
Day 11: Luang Prabang – City tour – Fly to Bangkok
Today we visit The National Museum at the former Royal Palace, which displays a lovely collection of the artefacts reflecting the richness of Lao culture dating from the days of the early kings right through to the last sovereign. Following we embark on a tour of this enthralling town to visit some highlights (if time permits) including Wats Xieng Thong - the Golden City monastery, which dates back to the 16th century and is considered to be the finest in Laos; the fine temples of Wats Mai, Vixoun, and the national Stupa of That Luang.
Afternoon flight to Bangkok. On arrival, your driver and guide will welcome you at the airport and take you to the hotel for check in. Free and relax.
Meals: Breakfast
Accommodation: Hotel in Bangkok
Day 12: Bangkok – Floating market – city tour
This interesting morning tour takes you to the rural yet world-famous floating market of Damnoen Saduak, situated west of Bangkok. It's generally known as Klong Ton Khem Floating Market or Damnoen Saduak Floating Market. Damnoen Saduak has officially three floating markets. Nowadays, the market is bustling with activity from very early in the morning until about 11.00 am.
Back to Bangkok. You will visit one of the most highlights in this city - The Grand Palace which is the official of King Siam since 1782 made up of numerous buildings, halls, pavilions set around open lawns, gardens and courtyards. It is located on the bank of Chao Phraya River. Inside the Grand Palace complex is Wat Phra Kaeo or Temple of the Emerald Buddha – the most beautiful and sacred Buddhist temple in Thailand.
Meals: Breakfast
Accommodation: Hotel in Bangkok
Day 13: Bangkok – Fly to Chiang Mai
Take the transfer to Don Mueang airport for the flight to Chiang Mai the old capital of Lanna Kingdom. On arrival, you will be met by your Travel Thailand tour guide & driver & transferred to the hotel.
In the afternoon, drive to Wat Phrathad Doi Suthep which is the most sacred temple in Northern Thailand, containing a holy relic of Lord Buddha, with a challenging flight of over 300 steps, flanked by enormous mythological Nagas. A panoramic view of the city can be seen from here as well as Sunset in evening and listen to the Buddhist monk chanting.
Meals: Breakfast
Accommodation: Hotel in Chiang Mai
Day 14: Chiang Mai – Maesa Elephant Camp
Today you spend time at "Maesa Elephant Camp" - home to one of the largest assembly
of elephants in the north of Thailand. The base flanks a rushing river in a beautiful lush tropical valley, a mere twenty minutes scenic drive from downtown Chiang Mai.
Visit the showground and enjoy a variety of fabulous shows of elephants who love to show off their skills and have a good time. Once you enter the show ground, 20 elephants will parade to welcome you to their show. Don't miss a chance to observe the elephants bathing at the two bathing areas on Maesa River before each elephant show.
Meals: Breakfast
Accommodation: Hotel in Chiang Mai
Day 15: Chiang Mai – Cooking class – Fly to Yangon (Thursday / Sunday)
Today you will go to a Lanna style school located in a countryside village, just 15 minutes from the city of Chiang Mai. The school offers lessons on how to cook delicious Thai food, Thai sweets, fruit carving, and presentation. When cooking Thai food, various local spices that enhance your health and physical well-being are used as ingredients. It is the ideal school to learn how to cook Thai food to preserve it for generations to come. The atmosphere surrounding the school is filled with warmth, sympathy, and helpfulness, all representing ancient, traditional Lanna custom and culture.
Afternoon flight to Yangon. Your guide will welcome you at the airport and you driver will take you directly to your hotel.
Meals: Breakfast, Lunch
Accommodation: Hotel in Yangon
Day 16: Yangon city tour
Begin your first Myanmar visit to Shwedagon pagoda – the most prominent monument in Yangon which dominates the sky with golden flash, giant spires and holy relics.
Our next visit is Kyaukhtatgyi Pagoda's 70m long reclining Buddha
In the afternoon, continue our Yangon sightseeing with the visit to Sule Pagoda. It is believed to enshrine a strand of hair of the Buddha.
From Sule Pagoda, we embark on an orientation walk to Chinese Town, covering exotic streets of Yangon downtown and British Colonial building as Emmanuel Church, Inland Water Buildings.
End our city tour at Bogyoke Market. Formerly named Scott's Market, it is now the main tourist destination where you can find antique, Burmese handicrafts & jewelry shops, art galleries & clothing stores..
Meals: Breakfast
Accommodation: Hotel in Yangon
Day 17: Yangon – Fly to Bagan
Today we have an early morning flight Bagan, in fact, the only direct flight. Bagan is Myanmar's archaeological wonderland, where over 3,000 ancient temples blossom from the countryside. Start your tour with a trip to the bustling Nyang U Market in Old Bagan then explore the beautiful, gold leaf Shwezigon Pagoda and learn about Burmese Buddhist traditions. We continue our tour with a visit to Ananda Temple, stopping along the way on the Bagan plains to admire some of the surrounding temples. In the afternoon, take a tour of a local lacquer ware workshop and learn how this traditional piece of art is made.
Meals: Breakfast
Accommodation: Hotel in Bagan
Day 18: Bagan Sightseeing
After breakfast, start with an exotic horse cart ride to one of the biggest temples in Bagan: Nan Paya Pagoda and many other interesting sites nearby, continue with sightseeing to Minkaba Gubyaukyi Temple, take note of the architectural difference in MyaZedi Pagoda before heading to Manuha Temple. The highlight of today is the panoramic sunset view from the second highest pagoda of Bagan, the ShweSandaw Pagoda.
Meals: Breakfast
Accommodation: Hotel in Bagan
Day 19: Bagan – Fly to Heho – Inle Lake
Flight for Heho. Inle Lake, the second largest lake in Myanmar is located 900 meters above sea level and is home to the Intha people, famous for their one leg rowing technique.
Upon arrival, board a motorboat for a sightseeing tour to Phaungdawoo Pagoda, famed for its richly gilded five small Buddha images and believed to be the holiest pagoda in Inle Lake. Our next stop is Ngaphechaung Monastery, known as "Jumping Cat Pagoda". As you travel closer to Nam Pan Village, have a look at cotton and lotus weaving factories and cigar making houses. These sites will give you a true sense of traditional Intha life.
Meals: Breakfast
Accommodation: Hotel in Inle Lake



Day 20: Inle Lake – Indein – Inle Lake
This morning, visit the "5 Day Market" which is held in different villages surrounding the lake. This is definitely a fascinating place to enjoy the scene of local tribes in their colorful clothes and exotic market atmosphere.
After lunch, the boat will take you to the beautiful temple of Indein, located on the hill overlooking the lake. It is relaxing to walk along the corridors and enjoy the giant columns that have been left to the nature for centuries.
Meals: Breakfast
Accommodation: Hotel in Inle Lake
Day 21: Inle Lake – Fly to Yangon
You take the flight back to Yangon. On arrival, our driver will meet & transfer you to your hotel. Free at leisure.
Meals: Breakfast
Accommodation: Hotel in Yangon
Day 22: Yangon Departure
After breakfast, you are free until our driver will take you to Yangon International Airport for your flight home.
Bon Voyage!
Meals: Breakfast
Accommodation: N/A.
Domestic & regional flights: Hanoi – Danang – Saigon – Siem Reap – Luang Prabang – Bangkok – Chiang Mai (Don Mueang airport) – Yangon – Bagan – Heho – Yangon.
Accommodation at 3 star hotel on average.
Private tours, transfers and all services as mentioned in the itinerary.
Services of private drivers and air-conditioned vehicles.
Service of English speaking guides as mentioned in the itinerary.
Entrance fees for all mentioned sights visited.
Meals as mentioned in the itinerary.
International flight into Vietnam and out Myanmar.
Meals other than those mentioned in the itinerary.
Early check-in and late check-out at hotels.
Personal expenses (such as laundry, telephone, drinks, etc.).
Tips for guides and drivers.
Personal travel insurance.
Vietnam, Cambodia, Laos, Thailand & Myanmar Visa fees.
Did you know? All of our tours are private and daily depart. Travel Thailand can organize any additional accommodations, domestic and regional flights.
Call us on +84983 787 868 to speak to one of our experts.