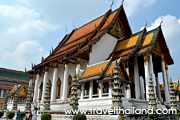 From USD 680/pp
This tour is designed for those who are short on time but still want to experience the true essence of Thailand. The journey begins in Bangkok, a bustling city with a mixture of stunning temples, views that take your breath away and modern aspect that will rival any large city. Your own private guide will escort you to the most highlighted sites such as the Temple of Dawn, located on the Chao Phraya River and the Royal Palace, the current residence of the King....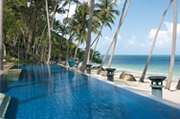 From USD 832/pp
Experience the best of both worlds on this journey through the most important temples of Bangkok and picture perfect island beaches of Phuket & Pattaya
With your own private guide, enjoy a relaxing, private long-tail boat tour through Bangkok's canals. Learn about Buddhist practices and influence on daily life. Hear monks chanting at a morning ceremony and explore colorful markets selling textiles, flowers, food, and crafts & end the trip with great beach break.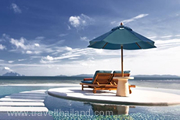 Thailand is the ultimate romantic destination, with some of the world's most fabulous hotels and resorts, incredible cuisine, warm and friendly local people, exotic spas, and
gorgeous tropical scenery. Whether it's your dream honeymoon of pure relaxation and luxury in a private and seductive grotto, or an anniversary spent in an exotic adventure, or perhaps a romantic getaway just for the two of you, Thailand has just what you need to fulfill your every romantic desire. The Lovers Tour is flexible and can be customized to meet your every wishes...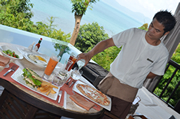 From USD 1,422/pp
Thai cuisine, delicious and complex, is a delicate balance of sweet, spicy, sour and salty flavors. On this
culinary tour of Thailand
, learn how to use exotic ingredients such as keffir lime, lemongrass, coconut milk, and gangal ginger to prepare delicious traditional, regional, Thai meals and learn presentation techniques. This tour includes several cooking classes at Thailand's leading cooking schools and a strong emphasis visiting the local food markets.Your private guide will lead you through the main cultural attractions in Bangkok,including colorful floating markets, the Grand Palace and the most impressive temples in the city. Next, visit Chiang Rai and Chiang Mai, experiencing the Lanna culture and authentic cuisine in noted local restaurants. Fly south to Phuket and feel the warm sand of this world famous beach.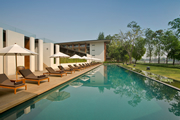 Enjoy an exclusive luxury journey to one of South East Asia's most spectacular countries - Thailand - the former Kingdom of Siam. Behold golden Buddhas, spiritual temples, hilltop villages, and stunning vistas. Soak in the panorama of the Golden Triangle, where Thailand, Myanmar, and Laos meet. Visit an elephant camp, meet artisans, and fall in love with Thai cuisine. Visit ancient ruins in Thailand's oldest cities of Ayutthaya and Sukhothai one occupied by the Lanna and Khmer kingdoms. The tranquil feeling and smiles of northern Thailand will win your heart.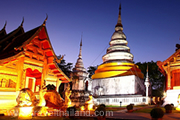 From USD 1,120/pp
This private and exclusive 11 day adventure takes you to the major destinations of northern Thailand to go up close and personal with the country's culture and traditions. You'll begin with an in-depth tour of the capital city, Bangkok. With your own private guide, you'll enjoy a fascinating boat tour through Bangkok's canals and the city's must-see sites. Then you fly to the infamous Golden Triangle for several days of sight-seeing before transferring to Chiang Mai for a relaxing stay at one of Asia's most beautiful and exotic resorts, surrounded by mountains and lush fields of terraced rice paddies. You can browse craft districts specializing in celadon ceramics, silver, teak furniture, paper umbrellas, and beautiful silk weavings. Then you return to Bangkok for some last minute shopping and touring before departing for home, your mind and soul full of amazing memories...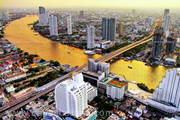 From USD 198/pp
The exciting 3 day tour offers you the very best of Bangkok. Not only will you explore the well known attractions of this bustling exotic city, you'll also discover many of the off the beaten path marketplaces and wonders; like the lively floating market outside the city, a traditional performance of Thai dance, silk making from moth to high style clothing, and delectable Thai cooking...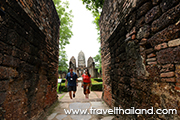 From USD 1,122/pp
This 10 day 9 night journey introduces you to "all that is Thailand". It features the best of Thailand's cities, rural countryside, and breathtaking beaches, with an emphasis on regional culture, history, arts, and traditional Thai cuisine. You will even visit an elephant camp and float down the river on a traditional bamboo raft after visiting the amazing temples and breathtaking views. Relax in some of Thailand's most highly regarded luxury resorts and hotels. Your exclusive private tours are conducted by experienced local guides who provide fascinating insights about the local peoples and their culture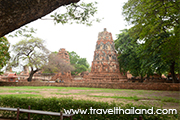 From USD 231/pp
Bangkok is fast becoming the world's hottest city and this new three-day itinerary allows guests to explore the best of the pulsating Thai capital. View the city from the luxury of a rooftop bar, before descending on to the bustling streets to explore temples filled with emerald and gold Buddhas, mouth watering food stalls and sprawling modern shopping malls. No visit is complete without a "tuk tuk" ride to reach your destination. One of the highlights of your journey will be a boat ride on Bangkok's famous 'River of Kings' with a boat ride on the Chao Praya. The surreal cityscape view and local commuters will leave you with a lasting impression of true Thai life. Walk through the ancient ruins of the former Thai capital of Ayutthaya – where you'll be whisked back in time.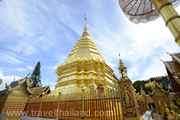 From USD 1,099/pp
Featuring the best of Thailand's cities, rural countrysides, and breathtaking beaches, with an emphasis on regional culture, history, arts, and traditional Thai cuisine. You'll be guests of Thailand's most highly regarded luxury resorts and hotels. Your exclusive private tours are conducted by experienced local guides who provide fascinating insights about the local peoples and their culture...
From USD 1,319/pp
Explore the legendary sites and enjoy the rich history and culture of the historic kingdom of Thailand. You'll visit the most exclusive locations, offering you the perfect opportunities for romance, adventure, relaxation, pampering, and the utmost of luxurious indulgence. Experience the excitement of the capital city of Bangkok, explore the ancient citadel of Sukhothai, enjoy an exclusive "safari" in the jungles of the Golden Triangle, discover the local culture and pamper yourself in the Chiang Mai countryside, and relax on the pristine beaches of the tropical island of Phuket. The tour is flexible and allows you to tailor your activities to suit your own tastes and desires...