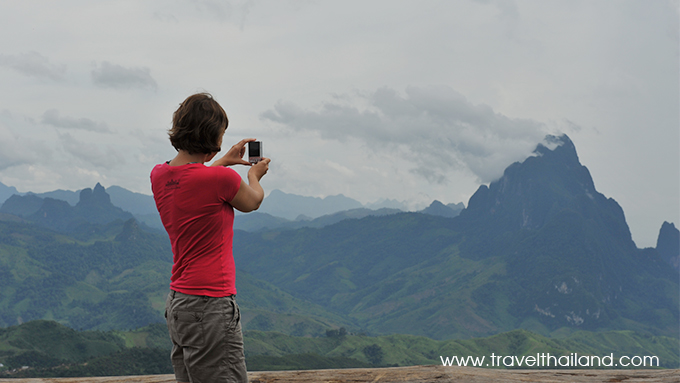 The Lanna kingdom was once one of the most powerful and influential kingdoms in history, with a great developed culture that influenced a vast area of northern Thailand and Laos. You can still discover Lanna's influence in the local architecture and customs to this day. Your tour features in-depth cultural touring to the most significant sites of Bangkok and northern Thailand, combined with all the major cities of Laos. Your accommodations are at the finest hotels in each stop of your journey. Your private tour is led by expert local guides who provide exceptional and colorful insight and connection to the local people and their culture...


Start city: Bangkok

End city: Vientiane

Duration: 13 Days 12 Nights

Departure: Daily, upon your request.

Cities to visit: Bangkok, Chiang Mai, Luang Prabang, Xieng Khouang, Vientiane

- Extendable with optional tours from Bangkok and from Vientiane
Tour Brief
Day 1: Bangkok Arrival.
Day 2: Bangkok City Temple Tour.
Day 3: Bangkok – Fly to Chiang Mai.
Day 4: Chiang Mai – Sightseeing Tour.
Day 5: Chiang Mai – Elephant Safari.
Day 6: Chiang Mai – Fly to Luang Prabang.
Day 7: Luang Prabang City Tour.
Day 8: Pak Ou Caves – Kuang Si Waterfalls.
Day 9: Luang Prabang – Drive to Xieng Khouang.
Day 10: Xieng Khouang – Plain of Jars.
Day 11: Xieng Khouang – Fly to Vientiane.
Day 12: Vientiane City Tour.
Day 13: Vientiane Departure.

Prices are quoted in US Dollars per person, double occupancy.
Day 1: Bangkok Arrival.
Upon arrival at the airport and after clearing immigration and customs, meet with your Travel Thailand guide and transfer to the hotel for check in.
Bangkok (bang means riverside village" and kok means "a wild olive") became Thailand's capital when Ramathibodi, or Rama I, moved the city across the Chao Phraya river from Thon Buri in 1782 to ensure its fortification against the Burmese, who had sacked the capital of Ayutthaya. Magnificent palaces, temples, and canals were built. Today Bangkok hammers the senses of visitors with its controlled chaos. But scratch the surface of this metropolis – population about eight million – and you will find pockets of surprising beauty and grace.
Meals: N/A.
Accommodation: Hotel in Bangkok.



Day 2: Bangkok City Temple Tour.
Breakfast at your hotel and then start the sightseeing tour to visit the main attractions in Bangkok: Wat Traimit – houses the world's largest massive gold seated Buddha; Wat Pho – one of the largest temple complexes in the city and famed for giant reclining Buddha, as well as the birthplace of the traditional Thai massage; Wat Arun – better known as the Temple of the Dawn. Lunch on one of the riverside restaurants. After lunch, we continue to visit the most famous tourist places in Bangkok – Royal Grand Palace and Emerald Buddha. The most famous building on the palace grounds is Wat Phra Kaew (Temple of the Emerald Buddha), regarded as the most sacred Buddhist temple (Wat) in Thailand.
On evening time, we will enjoy Siam Niramit Show. This must-see spectacular show is performed on the gigantic stage listed in the Guinness World Records!
Meals: Breakfast, Dinner.
Accommodation: Hotel in Bangkok.
Day 3: Bangkok – Fly to Chiang Mai.
Fly to Chiang Mai. This breathtaking city boasts hundreds of sacred temples, and a surrounding lush and mountainous landscape. Upon arrival, you are met and transferred to your hotel. Check in at hotel and free at your leisure for the rest of the day.
Meals: Breakfast.
Accommodation: Hotel in Chiang Mai.
Day 4: Chiang Mai – Sightseeing Tour.
This morning, we shall drive 16km northwest to a mountain named Doi Suthep to visit the golden temple of Wat Doi Suthep. Doi Suthep rises to a summit elevation of 1,676m above sea level. See the marvelous golden pagoda which contains the relics of the Lord Buddha. The scenic road takes you up the mountain to the National park of Doi Pui. From the temple you will enjoy a panoramic view of Chiang Mai city. Local Thai lunch en route. After lunch we continue to the biggest market in Chiang Mai, Talad Vororot and visit other main temples, such as Wat Suan Dok, Wat Chiang Mun, Wat Chediluang and Wat Phrasing.
Meals: Breakfast.
Accommodation: Hotel in Chiang Mai.
Day 5: Chiang Mai – Elephant Safari.
Breakfast will be served at the hotel and then it is time we visit the Elephant Camp at Mae Taman, where you can see the Elephants at work. You have a chance to ride the elephants crossing the river into the forest. Then return by Oxcart to the elephant village to have lunch. After lunch, enjoy a bamboo rafting adventure along the river for around 45 minutes. Onwards to an orchid farm where there are many beautiful species of orchid. And after that going back to the hotel and free time at your leisure.
Meals: Breakfast, Lunch.
Accommodation: Hotel in Chiang Mai.
Day 6: Chiang Mai – Fly to Luang Prabang.
This morning, you will take a flight to Luang Prabang. Upon arrival at the airport, staff of Laos Travel will welcome you and transfer you to your hotel in town for check in. The rest of day is free at your leisure.
Meals: Breakfast.
Accommodation: Hotel in Luang Prabang.
Day 7: Luang Prabang City Tour.
An optional early start gives you the fantastic opportunity to participate in the daily morning rituals of saffron-clad monks collecting offerings of Alms (ubiquitous sticky rice) from the faithful residents. This tradition is very unique in Laos, being the only Buddhist nation still preserving the procession. From there you will visit the morning Phousi Market, where you will see such diverse offerings as dried buffalo skin, local tea and saltpeter among the chickens, vegetables and hill-tribe weavings.
* Note: This is optional choice, we will not arrange tour guide and transport for this activity.
Following breakfast at the hotel, we will visit the Royal Palace (official name "Haw Kham") which was built in 1904 during the French colonial era for King Sisavang Vong and his family. The many items nicely displayed include rare furniture, traditional costumes and arts, jewelry, ornaments as well as working tools and utensils of the early part of the 20th century. Then we embark on a tour of this enthralling town to visit Wat Xieng Thong, the Golden City monastery, which dates back to the 16th century and is considered to be the finest in Laos. Furthermore, we visit the fine temples of Wat Mai and Wat Vixoun.
Meals: Breakfast.
Accommodation: Hotel in Luang Prabang.
Day 8: Pak Ou Caves – Kuang Si Waterfalls.
After breakfast, you will take the cruise along a Mekong River to Pak Ou Caves. En route, stop over to visit Ban Xang Hai where distillation sticky rice wine can be seen. Gently cruise up the Mekong River to admire the startling collection of gold-lacquered Buddha statues of all shapes and sizes nestled deep in the massive limestone caverns of the Pak Ou Cave. Dine on fabulous Lao cuisine while anchored beneath the limestone karsts on a tranquil stretch of river.
In the afternoon, drive to the Kuang Si Park where you can cool off with a refreshing swim in the turquoise pools of Kuang Si Waterfall, visit the Bear Rescue Centre or walk along the forest trails. On the way returning to Luang Prabang, we visit Ban Xangkhong, a village is well known for its silk weavings and for its Saa (jute) Papermaking.
Meals: Breakfast, Lunch.
Accommodation: Hotel in Luang Prabang.
Day 9: Luang Prabang – Drive to Xieng Khouang.
Today we embark on the 6 to 7 hour journey by car to Xieng Khouang. Along the way enjoy the beautiful scenery and see local village life. Xieng Khouang, the gateway to the Plain of Jars, is a town that has been totally rebuilt after it was destroyed during the secret war in Laos. Later in the afternoon, we arrive at Phonsavan, the capital of the Xieng Khoung province. Take visit to MAG (the Mines Advisory Group), a humanitarian organization clearing the remnants of conflict for the benefit of local communities worldwide. The evening is free for you to enjoy as you please.
Meals: Breakfast.
Accommodation: Hotel in Xieng Khouang.
Day 10: Xieng Khouang – Plain of Jars.
After breakfast, we will take a short trek to explore the mysterious Plain of Jars and the surrounding area. The jars are thought to be 2000 years old, although there is little proof to date them very accurately. Archaeologist still struggle to confirm the specific purpose of the jars. Were they used for funerary urns or to store rice wine? It remains a mystery until now. Observe local village life; visit a small monastery in Ban Xiengdi and pass areas that were important battlefields during the American war.
We continue on to Muang Khoun, the one place in the old provincial capital that was not been destroyed by American bombings.
Meals: Breakfast.
Accommodation: Hotel in Xieng Khouang.
Day 11: Xieng Khouang – Fly to Vientiane.
Today you will leave Xieng Khouang for flight to Vientiane. Welcome to Laos's capital, Vientiane retains an old-world charm that is becoming increasingly rare. Our Travel Laos guide and driver will come to pick you up and drive you to the hotel for check in. The rest of day is free at your leisure.
Meals: Breakfast.
Accommodation: Hotel in Vientiane.



Day 12: Vientiane City Tour.
Today we have a full day to explore Vientiane- the charming and fascinating capital of Laos, one of the classic Indo Chinese cities which conjure up exotic images, with its intriguing mix of Lao, Thai, Chinese, Vietnamese, French, American and Soviet influences. Our visit will take you to the key sites: National Museum, Wat Sisaket the city 's oldest surviving temple with thousands of silver and porcelain images in the gloriously authentic temple compound that offers you a glimpse into the Vientiane of the past, the next stop is Haw Phra Kaeo. This large temple is beautiful both interior and exterior, it was built to house the famed Emerald Buddha in courtyards filled with frangipani trees. In the afternoon a stop at the older part of Morning market is recommended before the visit to Pha That Luang. The giant golden stupa is a sight to see as the bright gold holds a sharp contrast to the pure blue sky. Next you will go to climb the Arc De Triomphe of Laos, Patuxai. The massive arch has a beautiful mosaic tiled ceiling and once at the top you can see for miles around Vientiane.
Meals: Breakfast.
Accommodation: Hotel in Vientiane.
Day 13: Vientiane Departure.
Today is free at your leisure for last minute shopping or sight-seeing before driving to the airport to catch your departure flight home.
Bon Voyage!
Meals: Breakfast.
Accommodation: N/A.
1. Are tour dates of flexible?
Yes, this tour package is private and you can depart on any dates at your convenience.
2. Can I extend or change my stay?
Absolutely! Extra days can be arranged in most areas if desired. Let us know how you would like to customize your trip and we will do our best to accommodate you. You can ask helps from our travel consultant to amend or extend your stay (subject to availability of hotels and flights; surcharge may be applicable).
3. Are the rates displayed per person or per room?
The prices shown on our website are per person based on twin/ double accommodation.
4. Any surcharges if my travel dates are during Christmas or New Year Holidays?
The rates are regular price and they are not included a compulsory dinner (Gala Dinner) on the day of Christmas or New Year Eve. Surcharges depend on specific hotels you stay at, so our travel consultants will give further information to you in communications.
5. Are there any discounts available?
We offer select trip discounts periodically throughout the year, especially in the low season (Summer time in Vietnam is from May to Sep). Please contact our travel consultants to get more details.
6. How do I pay when I want to book this tour?
We accept payment by debit/ credit card (Visa, Master, Amex), cash and bank transfer. When you confirm a booking with us, we will send you our online payment link or bank details to deposit 30% of the total tour cost. The balance will be due as soon as you arrive in Cambodia. Our travel consultants will give more details via email about payment instruction.
7. Are meals included?
We have tried to balance flexibility and convenience regarding meal options. This tour package includes daily buffet breakfast at hotels and some lunches or dinners as listed in parenthesis next to the tour itinerary on each day tour. In the major cities, where there are a wide variety of restaurants, we generally do not include meals to allow our travelers the flexibility of choosing their own food preferences. Our tour guides can recommend some options for our clients to choose from according to traveler's interest & budget.
8. What type of food is typical of Vietnam?
Vietnamese cuisine is quite varied from the North to the Centre and to the South, having had many external influences over the years that have created an interesting mix of cooking methods and ingredients. French presence in the recent past has led to the assimilation of French cuisine influence, and is often attributed with Pho noodle soup's rise to popularity. Most meals include rice, as well as fish sauce which is a popular condiment added to almost every meal throughout the country.
9. What if I have a special request on food?
You just need to share us your request on type of foods, we will choose a right restaurant and order suitable menus for you.
10. What are the accommodations like?
Vietnam Tours only recommends good hotels rated from 3 stars to luxurious resorts. They are located within walking distance of the town center and the reception generally speaks English. For more information, check with your travel consultants to view pictures of our suggestion on standard hotels/ lodges/ resorts. Don't forget that you can give your favorite name of hotel brands to us, so we can get your concept.
11. What type of transportation is used?
Our Vietnam tours utilize a variety of primarily private transportation (arranged just for your groups) including new and modern vans/ cars, motor boats, etc. We use a mix of private (vans/ cars)/ public transportation (domestic flights, sharing cruises, trains) to provide travelers with the safest and most efficient transit in each area.
12. Is this tour suitable for kids?
Yes! If you have children traveling with, ask your travel consultants to customize the tour program to fit a variety of interests and ages. We also focus on family friendly vacations with less travel and minimum drive times and maximum in-country activity that will keep younger minds engaged.
13. How many people are typically on your tours?
We only offer completely private tours, so only the people you book for will be on the tour. If you are alone, it will just be you and your guide. If you are a couple, just the two of you and your guide, and so on. We believe this is the best type of tour, so that it can be personalized to you, go at your own pace, and so that you can have the full attention of your guide for the duration of the tour.
14. Is this trip a good choice for solo travelers?
Yes, it is. You will still have a private tour guide and driver to accompany throughout the journey. However, you have to cover all expenses regarding accommodations (single room), tour guides, transportations because no-one shares cost with.
15. Do tour rates include international flights?
This tour only includes domestic flights. We find that it is usually less expensive for travelers to book these separately and this also allows you the flexibility to choose the schedule and routing that is most convenient for you. You can purchase international flights on your own, or we can certainly help you arrange these flights with an airfare consolidator who specializes in international flights.
16. How do I get to the hotel from the airport when I arrive?
When you arrive at airports, you will be greeted with your name on our driver/ tour guide's welcome sign, then get transferred to your hotel.
17. How if bad weather such as storm, flood, landslide occurs during my holiday with Vietnam Tours?
Our Travel Consultants and Tour Operators keep checking weather forecast every-day, if the weather is bad and it may affect to your safety, we will discuss with you regarding a tentative program immediately.
18. How much should I budget for tips?
Tips are not compulsory on any of our tours. However, it is customary to offer a small tip for exceptional service. Other travelers opt to bring small souvenirs from their home to give to tour guides and drivers along the way.
19. Is travel insurance included? And is it recommended?
Travel insurance is not included in our tour price. Absolutely, we recommend you to contact with your local agent in your country to buy travel insurance before you go.
20. How to change or cancel my reservation?
- You can change or amend your schedule in advance or during your trip but surcharge maybe applied according to our contract with local suppliers, hotels and airlines. Regarding cancelation terms, please check out this link: https://asiatravelandleisure.com/terms-conditions.html
Want to Ask a question?
Three flights: Bangkok – Chiang Mai, Chiang Mai – Luang Prabang, Xieng Khouang – Vientiane.
Accommodation at 3 star hotel in everage.
Private tours, transfers and all services as mentioned in the itinerary.
Services of a private driver and air-conditioned vehicles.
Service of English speaking guides in every location.
Entrance fees for all mentioned sights visited.
Did you know? All of our tours are private and daily depart. Travel Thailand can organize any additional accommodations, domestic and regional flights.
Call us on +84983 787 868 to speak to one of our experts.